Real Estate
Investment Opportunities
Pro Players Realty USA® is focusing on Franchise expansion.
We know if our franchisees are successful, the company will be successful.
WANT TO GET STARTED? CONTACT US TODAY TO FIND OUT HOW WE WILL WORK FOR YOU.
Our CEO John D. Stehmeyer and our team are ready to work for you to make your investment grow and grow. Our 3 franchises will prosper throughout the United States and Canada. Please look at our executive summary, we are well planned and positioned for ultimate success. We just need working capital to launch now. This is a great opportunity for a seed capital investment that will repay your original investment AND retain your significant equity and cash-flow. Take advantage of this opportunity and you will be rewarded.  *Our profits are projected to increase to over $244M annually by year 5. Time is of the essence. Call soon, our CEO John is in extreme deal-making mode. That will work to your advantage.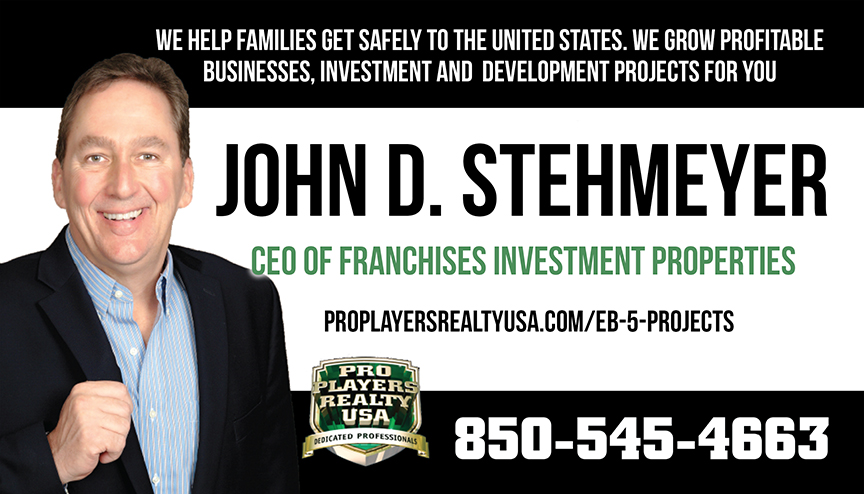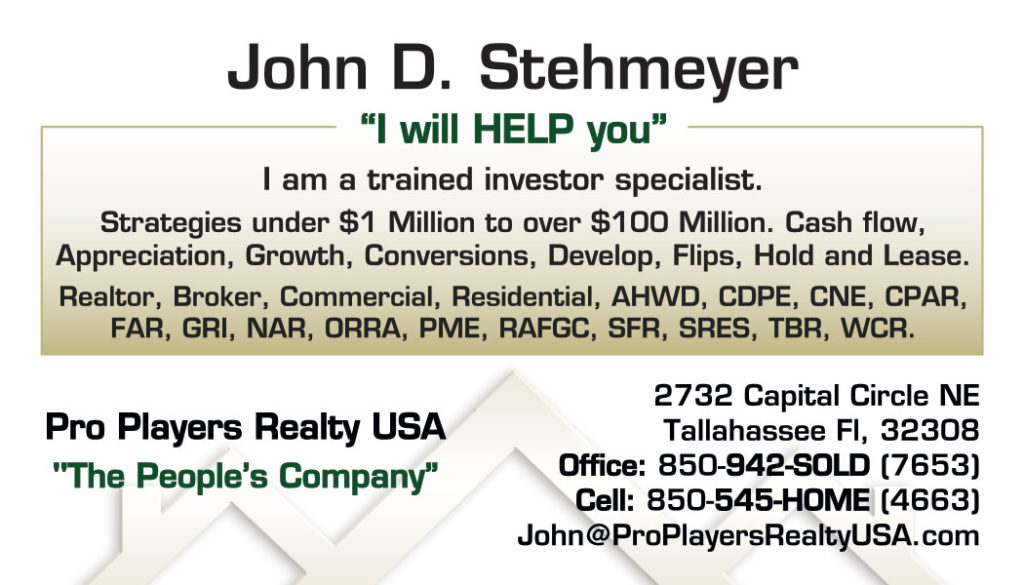 Previous
Next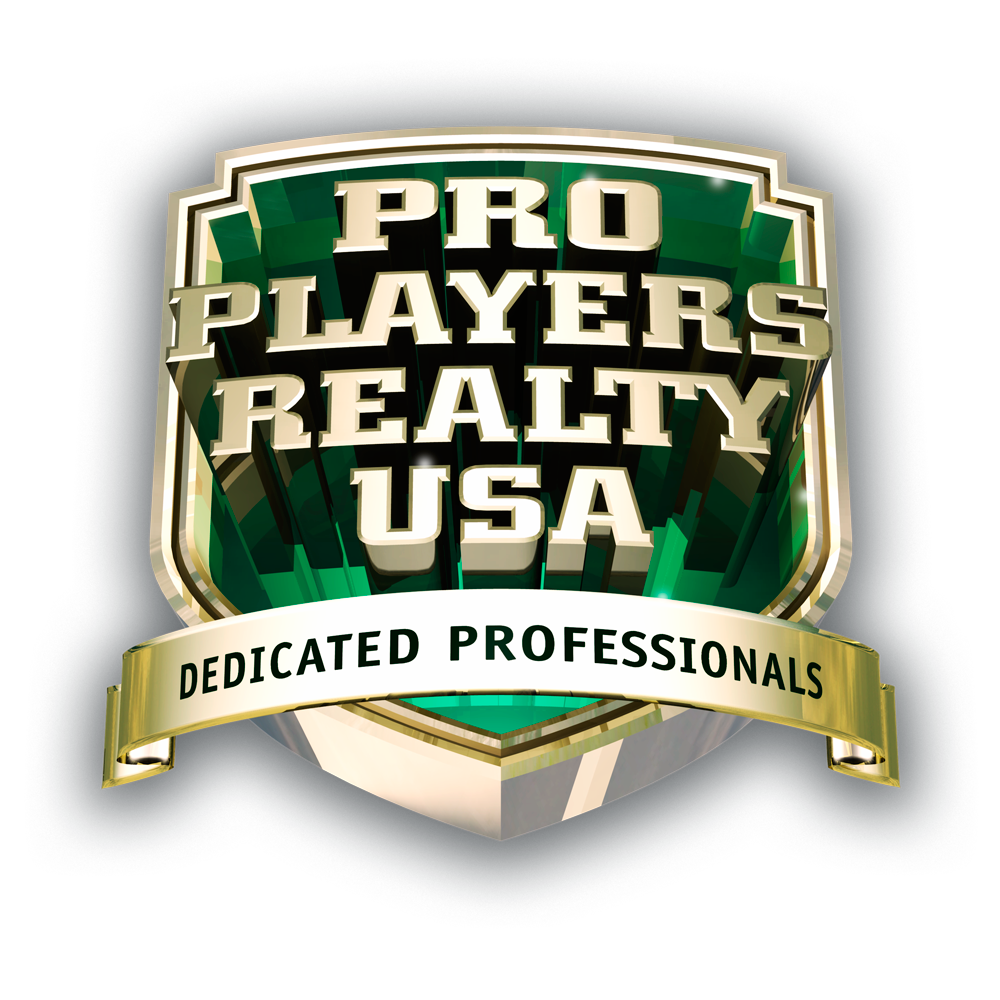 Call Us Today with Any Questions

Real Estate Investment Opportunities
Everyone in our company will benefit from foreign investor and company-owned offices, working together.
The market size we serve in is greater than $2.1 Trillion. I have a unique opportunity available.  We have three established proven business concepts operating in multiple, multi-billion-dollar recession-proof industries. We will launch these franchises. Our franchiseterritories are the overall richest markets in the world.As we implement, each company will exponentially drive up thesales of the other ones. Our action plans include unique strategies that will increase profits. Our marketing and management are cost-effective for working the same markets, with real estate development,  propertymanagement, and real estate services, construction, remodeling, and insurance repairs.The United States offers the largest consumer market on earth with a GDP of $18 trillion and 325 million people.Household spending is the highest in the world, accounting for nearly a third of global household consumptionReal Estate Sales Real Estate Sales Industry: $2.1 Trillion per year (US Census)Property Management Industry: $91 Billion (IBIS World). MISSION
Pro Players Realty USA® will be the preferred real estate brand for millions of people. People are number one with our company. Pro Players will get people where they want to be. Our customers will get exceptional results every time. We will save customers thousands of dollars on transactions in the U.S.A. and Canada. Our average Realtor will have more closed sales, and keep more money each sale, than any real estate company they previously worked with. Pro Players Realty USA® will make a significant positive contribution to society.
VISION
Pro Players Realty USA® will develop profitable businesses and communities to serve people from all over the World. Innovative. World-class. Fast. Pro Players Realty USA® will be the most diverse and exciting real estate company ever created. Pro Players Realty USA® will make many people's dreams become reality.

Contact Our Investor Specialist


Key Advantages with Investing in Pro Players Realty USA*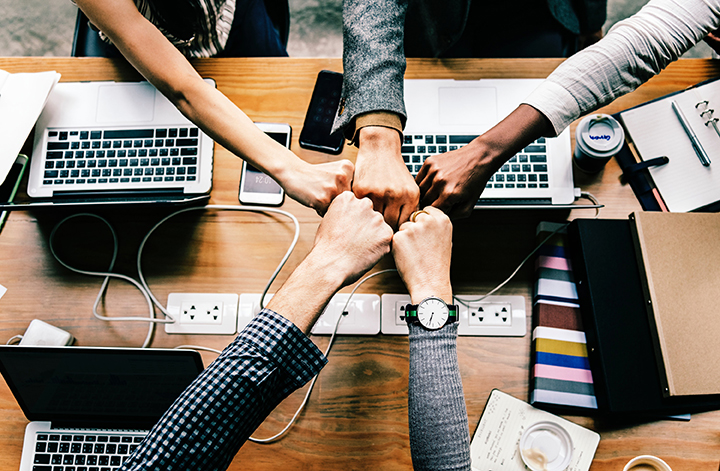 We work with successful developers to make our investors money.
State Territories have Huge Profit Potential
Original Investors Bonus Program from state sales as they occur.
Income potential from state sales, ongoing revenues, strategic alliances.
Income potential from Global Expansion and partnerships.
Unique business model that can create multiple revenue streams for Investors, agents and broker/owners.
Our business is growing in  Florida and Texas.
2.1 Trillion dollar and rising industry in USA.
Systems for greater added value and efficiency to investors in agents and broker/owners.
We want to be the most beneficial company for agents and broker owners in the industry, with powerful incentives for each member to grow the organization. Agents really like the advantages.
Economically feasible for brokers and state developers, allowing them to diversify and build a business they can  maintain with ongoing income streams.
1
Agents
0
Developers
1
+
Properties Sold
Great teamwork is the only way we create breakthroughs that define our careers." – Pat Riley
"The one thing I know is that you win with good people." – Don Shula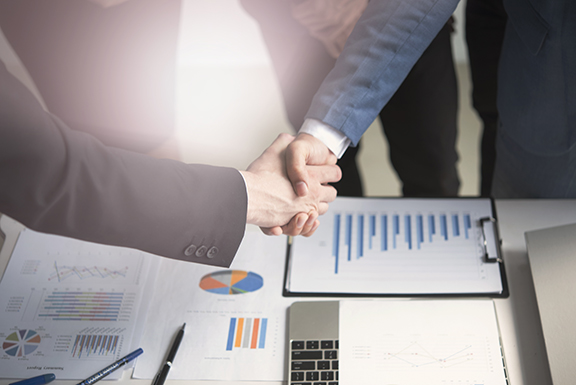 Licensing Opportunities are available, in 45 states. Action and Timing are required for big success!

Market Size
World's Largest Market
Why invest in the United States?
The United States is the world's top investment destination. The United States offers the largest consumer market on earth with a Gross Domestic Product (GDP) of $18 trillion and 325 million people. Household spending is the highest in the world, accounting for nearly a third of global household consumption.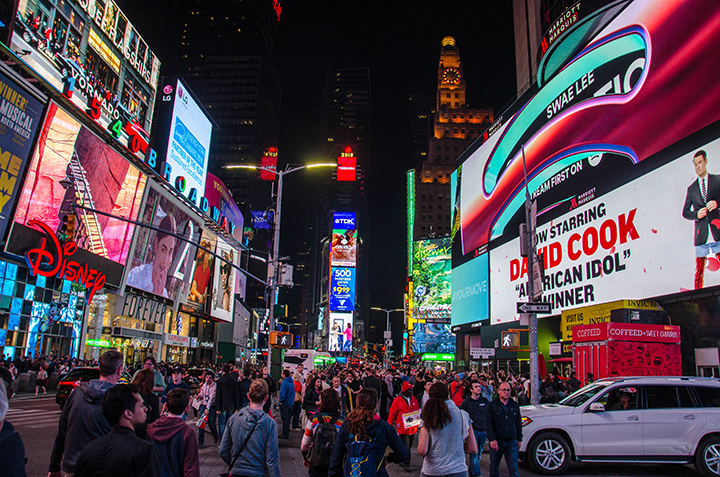 We are working with top immigration attorneys who specialize in representing businesses and individuals who want to start or expand a business in the United States.
This is an opportunity to get in at the top of an upcoming Real Estate Organization.
A business's worth is not just in the amount of equipment that it has, the amount of stock or how much money it made last year. There are also assets that cannot be touched or held. These assets are called intangibles. Intangible assets are things like people, knowledge, experience, market position, and untapped client demand. These things can sometimes be just as valuable as the tangible property. Customer awareness and a strong brand are important to buyers because it means that they will have to invest less money and time into building those things if they already exist on a strong level. Many companies and individuals are willing to pay more for a company with a strong brand than for a company with a lot of tangible assets. You can always buy more "things", but it's much hard to buy loyalty with customers. Keep in mind that while you may get a better price with a strategic buyer, they may have goals different from your own, they may have a powerful emotional attachment to a particular geographical region and strong desire to obtain it. Pro Players Realty USA® will tap into the multitude of professional athletes who need to invest in viable businesses, and the thousands of Real Estate Professionals who want to own their own offices in a company that will pay them for helping build the business, and provides a valuable retirement program. Selling a business and building a successful exit strategy require preparation. You need to have a clear idea of what you want and where you want to go. Remember, you are talking about planning the next adventure in your life.
Global Expansion
Pro Players Realty USA® will expand to become a leading provider of Real Estate Brokerage and Property Management services on a national and global basis. At Pro Players Realty USA® we want to provide and add significant value to our investors. We want them to get return on their investment several times over. We are assembling a community of investors across this nation who will make money and have a sense of teamwork and camaraderie. People who are happy when others succeed, people who work together and mentor each other as a mastermind group, people who eat together, and take vacations together. This group will add to and multiply the success of our members, not subtract and divide. This group will be financially rewarded every time they bring in a new business owner and have ongoing revenue.Our group of investors will  plant new Pro Players operations across the globe increasing their chances for profitability and new relationships. Owners earn a 10% residual income bonus on each territory and licensee office they refer to us that opens. Pro Players Realty USA® is designed for Investor professional athletes and real estate professionals to have great careers with residual lifetime income opportunities providing a very comfortable lifestyle and retirement. Our systems will revolutionize real estate brokerage practices in North America. We will create lifetime brand loyalty from our owners and agents, rewarding them to recruit brokers and agents to our company.Licensing Opportunities are available, in 45 states. Action and Timing are required for big success!We will work with you to develop these offices. Contact John for state territories,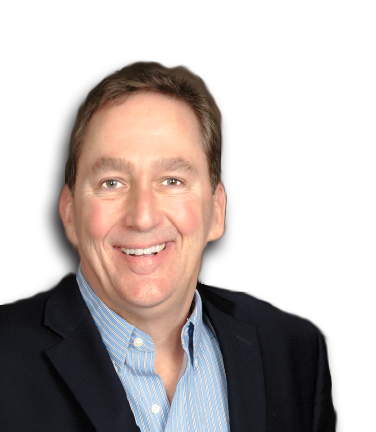 Contact Us For More Info!
*Important Disclosures
Performance Not Guaranteed: Past performance is no guarantee of future results. Any historical returns, expected returns, or probability projections are not guaranteed and may not reflect actual future performance.
Risk of Loss: All securities involve a high degree of risk and may result in partial or total loss of your investment.
Liquidity Not Guaranteed: Investments offered by Pro Players Realty USA are illiquid and there is never any guarantee that you will be able to exit your investments on the Secondary Market or at what price an exit (if any) will be achieved.
Not a Public Exchange: The Pro Players Realty USA Secondary Market is NOT a stock exchange or public securities exchange, there is no guarantee of liquidity and no guarantee that the Pro Players Realty USA Secondary Market will continue to operate or remain available to investors.